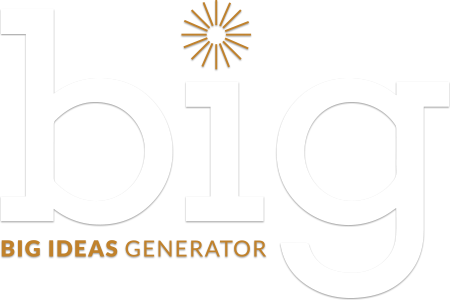 Support for new, bold, ambitious ideas
Our goal is to provide support to allow your idea to grow into a substantial research program. With the aid of a grant from the John Templeton Foundation, BIG provides two different levels of funding:
Seed grants for up to $30,000
Vision grants for up to $100,000
Funding decisions will be made by the Faculty Advisory Board. The BIG team provides awardees with strategic support to develop a research plan and pursue external funding from federal agencies and other funders.
Apply Here
THE TERMS
Reporting Requirements
Award recipients are required to formally submit their acceptance and sign the terms and conditions of the award by the specified deadline. All award recipients will be prompted to submit additional materials after the results of the grant competition are announced, such as revised versions of any or all proposal documents. Principal Investigators of successful proposals will also have to submit one to two reports (narrative and financial) during the the award period, as outlined below. Additionally, recipients may be requested to present their work at a BIG-related conference or seminar.
Award Agreement Completion
Successful award recipients will receive formal notification about funding. Recipients must sign an award agreement and commit to working with Arete/Big Ideas Generator staff to ensure appropriate implementation of the proposals.
Capstone Conference Attendance
Recipients will be required to attend the Big Ideas Capstone Conference. Details will be provided with ample notice. Once these details have been finalized, please contact us immediately if you will be unable to attend the Capstone Conference.
Reporting Requirements
Seed awards
Principal Investigators will be required to submit one progress report within 30 days of completion of grant activities. A report template will be provided for your project on the BIG Portal and can be completed at any point before the deadline. You will also be asked to submit copies of preprints, papers and other products of your activities related to the project. All documents must be submitted in English, and all budget information must be in U.S. dollars.
Vision awards
Principal Investigators are required to submit two progress reports during the life cycle of a grant: within 6 months of receiving the grant and at the conclusion of the grant period. These reports will detail progress made on their funded project, including important accomplishments, concrete outputs (publications, media aightings, etc.) and a financial update. Formatting and content guidelines for these reports, as well as a schedule of due dates will be provided with the grant agreement. Payments may be withheld in the event that the Principal Investigator fails to submit appropriate and timely reporting. All documents must be submitted in English, and all budget information must be in U.S. dollars.
Additional Terms & Conditions
Additional Requirements Upon Receipt of Funds
If you become a grantee, funds received are contingent upon the Principal Investigator's attendance and active participation in the Big Ideas Generator events.
Subawards
Faculty members are welcome to colaborate with colleagues from other universities. The majority of grant funds should be used for research activities at the University of Chicago.
Additional Information Requested
Please notify us if the Principal Investigator, and/or your affiliated researchers have been cited and/or fined within the last five (5) years by any Federal, State, or Local regulatory agency. To notify us, please append a page to your project description, containing the following information: Date of the citation or fine; Identity of the agency issuing the citation or fine; Description of the violation; and Final rulings of the agency. Note: Applicants who are debarred from federal funding/contracts/awards are not eligible for funding through this grant competition.
Right of Rejection
The Big Ideas Generator and the University of Chicago reserve the right to reject any or all proposals, to waive any informalities or irregularities in proposals, and/or to negotiate separately the terms and conditions of all or any part of the proposals as determined to be in the best interest of Big Ideas Generator and the University of Chicago at their sole discretion.
Advice of Omission or Misstatement
In the event it is evident to a PI responding to this RFP that the Big ideas Generator has omitted or misstated a material requirement to this RFP and/or the services required by this RFP, the responding PI shall advise the Big Ideas Generator staff of such omission or misstatement.
Cost of Preparation
The Big Ideas Generator will not pay any costs incurred in the full proposal preparation, printing or demonstration process. All costs shall be borne by the principal investigator.
Notification of Withdrawal of Application
Full proposals may be withdrawn prior to the date and time specified for submissions with a formal written notice by an authorized representative of the PI. Proposals submitted will become the property of the Big Ideas Generator after the RFP submission deadline.
Rights to Pertinent Materials
All responses, inquires, and correspondence relating to this RFP and all reports, charts, displays, schedules, exhibits and other documentation produced by the PIs that are submitted as part of the RFP shall become the property of the Big Ideas Generator after the RFP submission deadline.
Photography and Video Recording
During the capstone conference and other BIG events, staff of The University of Chicago may want to photograph or videotape you for use in publications, press releases, and/or for content on University of Chicago affiliated websites. In submitting a full proposal and continuing in this grant competition, event attendees grant permission to University of Chicago staff to take photographs and video recordings, and agree with the University's right to use, distribute, copy and edit recordings, in whole or in part, in any form of media for non-commercial, educational, or programmatic purposes.
Apply Here