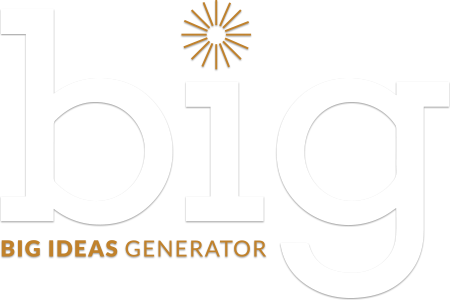 Support for new, bold, ambitious ideas
Our goal is to provide support to allow your idea to grow into a substantial research program. With the aid of a grant from the John Templeton Foundation, BIG provides two different levels of funding:
Seed grants for up to $30,000
Vision grants for up to $100,000
Funding decisions will be made by the Faculty Advisory Board. The BIG team provides awardees with strategic support to develop a research plan and pursue external funding from federal agencies and other funders.
Apply Here
Seed Awards
The BIG Fall Funding Cycle deadline is November 16th.
Seed Awards of up to $30,000 will be offered; no Vision Awards will be offered this cycle.
Seed Grants provide flexible resources to explore bold research ideas that might otherwise be too uncertain for researchers to pursue at an early stage. Seed grants are quite open in format to support a focused initial exploration and can potentially be used to
Convene a working group with peers

Generate preliminary data

Fund part of a graduate student's time to do preliminary work

Other exploratory activities
Seed Awards range from $10,000 - $15,000 for a maximum of a six-month period. Seed Awards could lead to Vision proposals but it is not necessary. For the Fall 2015 funding cycle, seed awards will be for up to $30K for a maximum of a six-month period. Usually, BIG only accepts new proposals, but for this cycle only, BIG will accept applications from previous winning projects that can demonstrate that another cycle of funding would advance the project's larger vision.

Selection Procedure
Applicants submit a full Seed Proposal. The Advisory Council, chaired by the Vice President for Research and for National Laboratories, conducts a review of proposals and makes funding determinations. Notices of award are sent out within one week of the Advisory Council meeting. To apply for a Seed grant, a UChicago faculty member has to create a profile on My Portal and submit all application materials there. Below is an outline of the necessary application materials.
Application Guidelines
Proposal Application Form
Proposal Title
PI Name and department
Co-Investigators name and department
Relevant Focus Area(s): Information, Complexity, Cognition
Requested Amount
Main Proposal
Supplementary Materials
Main Proposal
Submit a one page document (excluding references) answering the questions below. Please use single space, 1" margins, and 12pt font. Proposals longer than 1 page (excluding references) will not be considered.
Your Big Idea
1. How will it change the way we think?
State your big idea and how it relates to one of the guiding Big Questions. Explain what is truly bold about your approach and the long-term impact on the field.
2. What will you do?
Detail the major activities of the project over the grant period (e.g. methods, plans for analyses, etc.)
3. How will this grant help you do what you want in the future?
Explain how receiving this grant will be crucial for securing external funding in the future. Please let us know if you have other sources of funding that will help leverage this grant.
4. What will you produce?
State concrete short-term research outputs for this project (e.g. datasets, tools, publications, etc.)
Supplementary Materials
Abstract (200 words max)
State your big idea, why it is important, what you will do, and why a BIG grant provides a unique value to your project. Note that this may be posted for public view on our website.
Biosketch (1 page max)
Please submit one biosketch for each investigator.
Detailed Budget
Use the Budget Summary Sheet template to create a budget summary for the duration of the project (6 months max).
Budget Justification Narrative
Please provide a brief justification for each line item in the proposed Budget. Use our Budget Guidelines when creating the budget and budget justification. Note that while each investigator must include effort in the budget for his or her proposal, that effort can be completely cost-shared (i.e., the effort can be included in the budget at a cost of $0).
The full proposal must be submitted electronically through My Portal.
Apply Here